To lose weight you will need to address food, exercise and motivation.
"Shift That Weight NOW" total package
The "Shift That Weight NOW" package is for people who want results ASAP. It covers everything needed for success. It combines:
"Metabolic Typing for Weight Loss Nutrition System"
"Lighter, Leaner, Energiser Exercise Plan"
"Effortless Weight Loss Motivation System"
These three areas ensure rapid results. START NOW>>> ***************************************************
To address your nutrition, exercise or motivation indivdually see below:
Metabolic Typing for Weight Loss Nutrition System
Take the Metabolic Typing Test to find out what foods your body needs to lose weight and get into shape. This is often very different from person to the next! START NOW>>>
Allow me to design an exercise plan to achieve the goals you want. I have had great success in designing exercise plans for fat loss, muscle gain as well as sports performance. START NOW>>>
Motivation - "The Effortless Weight Loss Motivation System"
The ultimate success of your plan is based on you motivation. As author of Change Your Thinking, Change Your shape my effortless motivation system allows you to attain levels of motivation that will easily allow you to achieve your goals. START NOW>>>
***************************************************
My role is to help you towards achieving your health and fitness goals. I have a very strong track record of success because of my approach is very different to most conventional methodologies. This has allowed me to help client after client to lose weight, increase energy, develop their fitness levels and support their body against health complaints.
My aim is to identify the causal problems underneath your goal and then work with you to remove these blocks to success. In addition to this I also look to restore efficient function in the underlying systems of the body e.g. detoxification, immune, digestive pathways etc. This base up approach coupled with exercise, mental strategies for success and my experience is a very powerful combination to produce results.
Click here to start working with me>>>.
Download the causal factors upon your goal document. This also includes information of how I cover these different areas and further possible testing options. Alternatively Click here to view the diagrams in a separate window.
Working with me on line.
I have created a ten week programme. During this time we will try to identify and resolve as many causal factors underneath your goal as possible. The course is done at your own pace. Obviously the more causal factors resolved the greater the chances of results.
Within the course different factors are addressed using Metabolic Typing, lifestyle changes, exercise routines and addressing the mind. Numerous functional diagnostic tests are available in addition to the basic programme.
The aim of the programme is to attain immediate changes yet create long term and sustainable behavior patterns.
When working with me you gain the combined experience and skills of a metabolic typing advisor, clinical nutritionist, Emotional Freedom Technique therapist and a athletic conditioning coach.
Possessing such a broad selection of skills means I am perfectly suited to help you achieve your goals whatever your background or personal circumstances. This is shown by the varied types of clients who were very happy with their transformation.
Click here to start working with me>>>.
How does the process work?
Upon signing up I will send you the Metabolic Typing questionnaire. This 150 question analysis will be used to address a numerous possible causal factors. The test will reveal which foods will fast track you to losing weight and improving health. You will receive a colour coded food plan detailing the exact effect of over 372 foods upon your body.
An example of a small section of a metabolic typing nutrition plan is shown below. Click here to see a larger example:
Green:Eat freely, Black:Eat only rarely, Red:Avoid eating
Support.
I am available at any time to answer your queries by email and also available by phone to ensure you are happy with how the process works. The member's area has a large section to support you, answer queries and aid motivation in addition to my many years of experience and track record of success.
Working with someone brings a level of accountability. I expect you to get results and to give me the necessary commitment to achieve your goals. This is very easy when you have created natural motivation for success but having someone there to contact is very helpful.
It is also important to have contact with someone with different attitudes to health and fitness than your current social network. It allows transitions to new behaviours much easier when you see that other people are already doing what you should do. I am great examples of someone who practices what they preach. It make sit easy for you to follow along.
Member's area
You will also be given a password to the member's area. The member's area acts as a base of knowledge for reference throughout the course. It contains 15 sections on different subject areas including motivation and handling common problems. It contains many audio recordings, video's and articles to cover everything you need on nutrition, exercise and the mind. Explore the member's area>>
Click here to start working with me>>>.
The main themes covered while working with me.
Though each person is unique with all clients I try to cover three main areas of nutrition, exercise and the mind. Alongside progressing each of these areas week by week we will also seek out more causal factors and thus move you closer towards achieving your goals. Over the ten weeks you will learn about:
Nutrition:
What foods to eat to promote weight loss and optimal functioning.
How much to eat per meal to be free from hunger and food cravings yet still get results (Please note you will not be hungry on a metabolic typing plan).
Identifying which foods have the worst effect on your body.
Supplements to accelerate your metabolic functioning and aid results.
Exercise
Discover your exact level of fitness with your very own fitness profile.
Aerobic training
Resistance training
Core training
Flexibility
Periodization - How to structure your training long term.
Discover exactly where your fitness level is through my fitness profile assessment. This identifies strengths and weaknesses and allows you to know exactly your current abilities and chart progress.
There are many example exercise programmes to download in the member's area. These training plans come with diagrams and instructions so that you know exactly what to do. These can be done at home or within a gym. I will also teach you specifically about each exercise area during the course. Find below an example snippet from a training programme.
Here is an example exercise description with photos.
The mind
This addresses motivation and emotional contributions to your goal and overall health. You will learn:
Emotional freedom technique (EFT) and how to use it for great results (More info>>>>)
Methods to reduce and remove food cravings.
New behaviour patterns for long term sustainable results.
Various mental strategies to help you from the areas of NLP.
Natural motivation so this all feels easy and fun.
Example of the EFT tapping point which you will use to great effect.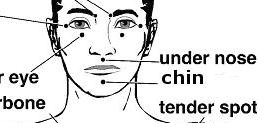 Click here to start working with me>>>.
How does it work practically?
After you have completed the metabolic typing questionnaire the results are usually back within a few days. I will then send you the information on what the recommendations mean and send then follow this each week with further progressions along the main themes of nutrition, exercise and the mind.
All the information comes in three forms, a summary paragraph of the information, an attached written document and an audio recording about the information

Email summary written document audio recording
In addition to this you can use the member's area for further clarification of the specific information and for general browsing and addressing common problems or downloading exercise programmes etc.
I am on hand throughout all this process to offer you support, encouragement and help.
Prices
Working with me via the internet is is affordable by all those committed to getting serious results. Viewed over the course of a year it is just £4 ($US 8) a week. Everyone can afford that.
To work with me through my on line course it costs:
10 weekly installments of £19.99, ($US 39.99)
That is just 10 weekly payments of £19.99, totaling £199.90 pounds. ($39.99 each week for ten weeks totaling $399.90)
Remember anyone can achieve their goals if they harness the right combination of nutrition, exercise and the mind to resolve the causal factors underneath their goal. Through my support and motivation I will help address as many possible factors as possible.
Click here to start working with me>>>
Common questions /concerns
Most people have a few questions before they are ready to begin achieving their goals. I have answered the commonly asked questions and concerns below, click on the questions to jump to the answer or just drop me an email:
I cannot afford it, do you have a cheaper service?
No, I do not have any cheaper service. The cost of this course is affordable by all. It costs just £4 ($8) a week when viewed over the course of a year. Anyone can find this money when you consider what you spend your money on these days, e.g. clothes, cars, eating out etc
If you cannot afford it right now then save up. My free newsletter will give you weekly advice which will push you in the right direction until when you are ready you can work with me.
If you have a health and fitness goals then you need a plan to achieve it. To be successful you must resolve the factors that have caused your body to get to way you are today.
My service will identify many possible factors in one go which could be impacting your goal. If this does not produce the desired results then there are more rocks that need looking under.
Either you can front up and look deeper into why your body isn't acting as you would like or you can run off looking for some other stop gap measure or next magic pill solution.
Will I get support / how will you know if I am sticking to it?
I am available at any time to answer your queries by email or by phone. The methods I teach you about are designed to create natural motivation. This means you will end up doing the right things naturally.
The member's area has three sections dedicated solely to the issue of the mind and motivation. You will learn methods to make mental break through's like you have never achieved before.
If you need someone to know if your are sticking to something then your mind set is not where it needs to be right now. You are doing this for yourself, the only person you can cheat is you. If this is your thinking you need to begin adjusting your mind ASAP so you are primed for success and not another failed attempt.
Yes. The body will make improvements during the course, guaranteed. however it does not always make improvements in your specific symptom. This is due to biochemical individuality and the underlying causal factors.
For example, two clients can have a 10% improvement in health, one of these sees it as a drop of 7 pounds in weight while the other enjoys increased energy, reduced food cravings and an end to their headaches. Which is better? It is irrelevant because your body responds as it choose to respond in its own time frame. A little bit the luck of the draw.
Most people see improvements in body fat. Often considerable However, some people do not see the scale of the improvement they would like within such a short time frame as ten weeks. T o obtain the levels of results you want you need to resolve the causal factor.
After signing up I will send you the metabolic typing questionnaire and a members log in. After completing this it will be analyzed by the developers of Metabolic Typing in the USA. This is explained above, but just drop me an email if it i easier.
No, the fact you are reading this means you have enough commitment to get the results you want. All you need is commit to trying your best and the rest should look after themselves.
Everyone has the ability to achieve amazing things, even if they do not believe they can do it. You are no different. The problem with previous attempts was you directed your commitment in the wrong areas or you were battling real food cravings which no amount of will power will ever overcome.
Payment is made in installments through Pay Pal's secure payment web site. This facility can be used by anyone who has a credit or debit card anywhere in the world. Pay Pal are the world's biggest and most trusted payment processors. They are associated with Ebay. You will need to sign up for a free pay pal account to pay by installments.
If you would prefer to pay for the whole course in one payment this can be done by card on the payment page. Alternative arrangements can be made if paying by cheque for UK residents.
Surely I must need to meet you to get results?
Not really, you can get results without ever seeing me, check out the testimonials section for details of other people got great results working on line. These people never met me.
I would point out though that working on line puts more emphasis on using the mental techniques I teach. If you are not prepared to do these I would suggest you do not sign up for the on line course.
I am very interested but not quite sure yet, what shall i do?
Contact me by email or phone me on 0845 094 0804 or 0207 585 3289 and I will answer further queries. If outside the UK drop the first digit (0) and add +44
Must I do everything you mention, I just want to do one part?
Yes, in my experience it is the combination of addressing nutrition, exercise and the mind in one go that gets results. In the past I have offered individual elements but I have come to realize that the results from this approach was much lower than I would have hoped.
Working on line puts even more emphasis on the mental aspects. If you are not prepared to do these I would suggest you do not sign up for the on line course.
I want to do it! How do I get going?
Simply follow the link below to get started and receive the metabolic typing test for completion.