Exercise Fundamentals part 3 – Classifying the common exercise types
In part 1 we went through the 6 types of exercise followed by part 2 showing you how these exercise types must be combined to produce the 5 main benefits everyone goes for.
Today I have a summary table showing you the types of exercise out there and the most common benefits. The idea is to ensure your routine has all the bases covered for your goals.
Here are some of the common exercise types, these are typical for the average exercise you will do for the class. For example my PT sessions include all 6 areas but you average PT does not do that. You could argue some of the exercises below cover other types but as far as your goals go follow these guide to see what benefits you are getting. Use the blank spaces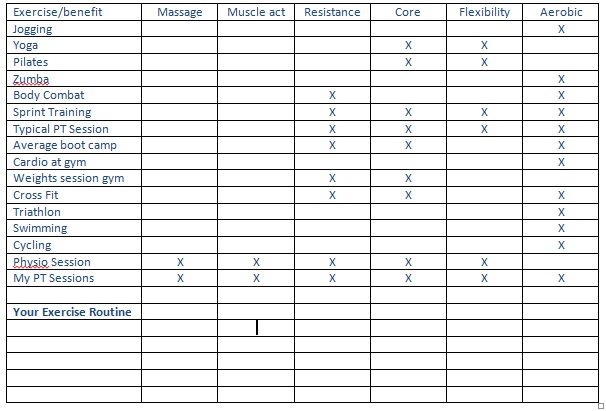 If you do no exercise then use the above as a suggestion guide. All the exercise types can be done at home without too much drama and should be a possible on 1-3 hours a week max. The key is maximising your time.
There are so many ways to exercise but in general exercise classes for example are a poor way to get maximum time efficiency. So maybe not the best choice if you are a bit time starved or not a fan of exercise.