Linsay Duncan
Linsay works in advertising and is in her thirties. She has performed marathons and duathlons.
Why did you work with Ben, what were your goals and what had you tried before?
I came to Ben because I was tired of feeling I had to maintain long cardio sessions to maintain my fitness levels and physique. I was also looking to address my nutrition because I knew something wasn't quite right with my current food intake. Ben took me through some thorough questionnaires, but more importantly listened to me. In the past having participated in various types of long distance races I was looking for a change to my exercise habits but one that would keep me challenged and motivated.
How did you find the experience?
Having both a training programme and a nutrition programme tailored to suit me was a really positive step forward. Once I started the sessions with Ben and changed my eating habits I could feel the benefits very quickly. I increased the amount of carbohydrates in my diet which went against my own intuition and previous nutrition approach but my body responded very well towards it. Ben's additional focus on the more psychological side of exercise, emotions and eating was an important third area to focus on also. Each week Ben religiously checks in to see how I'm feeling physically and to see how the nutrition and emotional side of things are working out. This makes the whole programme really well balanced.
What results did you get?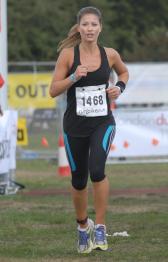 Within a few weeks could see my body shape subtly changing. As a result I have shaved off a few percent in body fat which was one of my goals. I have also maintained my level of fitness without the need for so many long cardio sessions. The muscle tone in my legs has improved - which was a problem area of mine! I feel I know my body better with the nutrition programme helping me feel more satiated. All in all, a really well-rounded programme and evidence of what great personal training can do.
"The muscle tone of my legs has improved and I have shaved off a few percent of body fat. I have been able to maintain fitness without so many long cardio sessions"