Another busy week here training people and catching up on sleep after helping with the Notting Hill Carnival. I help organise my samba school's parade which is a fair bit of work loading vans and similar. Some conversations that have come up this last week or so – 
Who Judges Body Fat?
I get asked "Do you think I need to lose weight?" way too often. This is a subject of personal choice, I have never told someone what they should be nor would I. It is up to you. When helping people answer their own question there are some standards out there to guide you.
If taking a medical view then you can use BMI and to a lesser extent body fat to advise people. The medical world says you need to have a BMI of less than 25. Plenty of research backs up the benefits of being within the healthy range.
However, there is not any benefits of being lower in the scale once you are in the healthy range. For example, if you are 24 in BMI there are no benefits to being 20 or 22 from a health perspective. There is some research also showing not much difference in health between a slightly overweight person and normal weight in the BMI scale too.  This means that unless overweight or obese on the scale it is up to you. (Note – There are negative consequences if get too low in BMI and certain individuals may not fit the BMI data so adjust for your body type, e.g. use body fat % as well). 
Certain fields determine ideal body fat, if you told me you are entering a bikini show or want to be catwalk model then their are general levels of body fat that win shows / get most the jobs (like it or not that is the current field). Most people are not doing this though.
Therefore, it is important for you to work out what evaluation you are using, for some it is previous data such as old clothes, previous weight, how they look in the mirror etc. Either way, if you do not judge it on a medical scale then it is down to you. For many people though they want to feel a certain way and it has absolutely nothing to do with their body. In this case you need to work on the non fitness / body related issues that would allow you to feel the way you would like.
It is good to ask yourself what are you using to determine how you feel about your body. This is quite a big area and I have created a workbook on body image for my new book. I was hoping to release the body image workbook here but it has grown and grown and haven't had time to finish it. I will in due course. 
What To Do If In Pain ?
I don't know how many people's injuries I have helped out over the years but hundreds and hundreds at least. I massively improved one of the samba dancer's injured shoulders in about 10 minutes on Saturday. She had been suffering for a couple of weeks.
The general rule of thumb for any injury is to rest it for about 1 -2 days max and then you should be doing some sort of injury rehab. Rest is the immediate response most people take which is good in the acute injury phase but once passed that then rehab should begin. This may not at all look like "real exercise", for example a foot injury doesn't mean you start running again after one day off to "jog the injury off", but it may mean gentle mobility of the feet, strengthening with a band the lower leg muscles etc.
The correct injury rehab protocol can massively speed up the recovery time of pains and aches. It is of course easier said than done if you do not know much about exercise. The general rule of thumb is to wake up the muscles that support the injured area, release any obvious spasms with massage techniques and then check how it affects the injury and repeat. The fundamental rule is to do the above process below the point of agitation. The skill of injury rehab is working out where this line is as it involves targeting the injured area during the exercises (avoiding all movement = rest which as said is not the best approach after the first couple of days).
What Is Old??
My most annoying fitness conversation these days is hearing people in their 40's say they are old as an excuse why they are overweight, cannot do something or have aches and pains. 
Obviously the older you get the more time you have had to pick up serious injuries, gain weight, let your fitness wane, distort your posture all of which cause the usual moans people make. However, it is not age related but behavioural. There are simply too many people with amazing results these days who are 50, 60 and even 70+ to show the lunacy of using "I am over 40 as an excuse".  
Quite simply, 40 is young and you should be charging around the place and looking great. This day and age though people, in their twenties act like they are 60+ with the declining fitness levels across our nation. Either way, your age is not a barrier to a thriving body. The transition from where you are now to a better place is not effortless of course, but it will be worth it. Most people will need support in some kind, be that a trainer like myself or a plan of action or online programme etc.
Photo – Sorting Things For The Carnival With My Big Rental Van and couple of the dancers.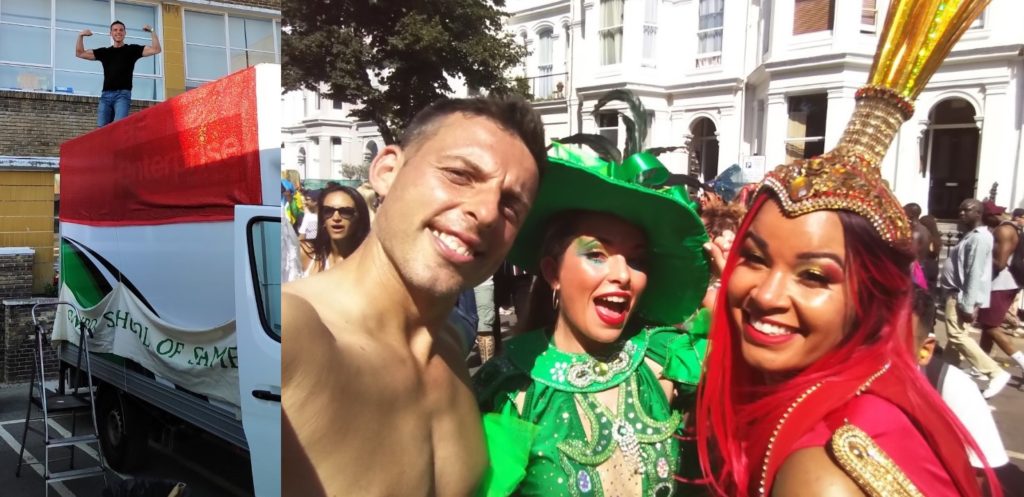 *********