It has been a while since I wrote as I have been super busy with clients. I will be back to the usual writing schedule very soon. Today I have put in a few questions I have answered for people I have been training.
They touch on various subjects form competing in a bikini show, to feel overweight to the new Cadbury's low sugar chocolate bar. As ever, if you have any questions simply reply to this email and I will look to help you out.
***************************
Question – Do You Think I Could Compete in A Bikini Bodybuilding Show?
1) Yes you can easily do a bikini show.
2) Plan in off periods for your dieting… you can continue your progress until say the middle August then break even for a couple of weeks and get back on it thereafter…
In general without a date for a show you will struggle to run a 12 weeks block together… and/or just bounce back by regaining fat the moment you finish it.
3) You have a fair few weeks dieting to go to be super super ripped… it better to accept that mentally than hoping this week will be the one you get there… Hence periods on/off allow it to be easier. These processes just show how lean you need to be and how much time it takes to be stage ready.
4) There is a point where you are considered too thin by everyone / don't look your best when you are in clothes vs a bikini. Be aware that this is your choice to make but the nearer stage shape you get more this is an issue and comments you will get off people.
.
************************
Question – It feels like I have gained 5% body fat in a week, can this happen?
Answer –
Ok, doesn't sound good… luckily you can only gain or lose 1% fat ish in a week. This is bad news if had  a great week of food and exercise because you do not lose masses of body fat. However, it is great news if you are eating badly as you do not gain that much fat.
Feeling like you gained 5% body fat is very different form having actually gained it. There are many factors that make you feel much bigger than you actually are, these include –
– Being Bloated (Food type or quantity, drinking lots of liquids, monthly cycle etc)
– Your Mood – We judge ourselves more harshly when we are in a bad mood
– Being Around People Who Are Leaner Than You – You can feel great until next to someone that has better results than you.
– The lighting / mirror you use to evaluate yourself – The difference in light and mirror between locations is massive.
I wouldn't make any judgements if these are in play and instead go back to the plan and evaluate again when none of the above are present. As results are slow on slow off in real terms I would chill out 🙂 
************************* 
Question – Today has definitely been the hardest day trying not to use food as an escape. I've felt a weird pull to go back to bad habits and use food for comfort.
Answer – 
Well… this is not uncommon to get stronger urges when under eating to lose fat. Especially if need some comfort because of stress. Someways around this;
Assuming your general diet is still high in taste as we discussed last week then find some comforting food amongst the plan. When I was competing I would eat some of those kids chocolate bars (120 cals) to keep me in the game on days I wanted to quit.
It can also be helpful to bring forward meals if needs be, often you just want food per se but it comes as a bad cravings etc or negative thoughts.
It is better of course to use something to address emotion that doesn't involve food. I like Emotional Freedom Technique which I can teach you next session. Other methods could include meditations… if comfort is warmth to you then a hot bath, getting in bed or having a warm soup… 
Other methods that can help with stress and emotion include writing down thoughts, planning the future, dance, music playing, singing and more depending on the person. Yoga and movement in general will work on stress. Getting adequate sleep is also one of the big three foundations of stress management alongside food and daily exercise.
*************************
Question – What Do You Think Of Cadbury's New Chocolate Bar?
Answer –
I also noticed this in the shops, it has some clever marketing behind it. The new bar claimed to be 50% less sugar than a standard dairy milk bar. This sounds great, however it is not quite as it appears. For starters the bar is smaller, almost 25% smaller yet costs twice the price of a standard one. Though eating less chocolate is a good thing to do it shows how they manipulate factors to sound good.
If you are to compare the gram to gram data you find the the total calorie content of the new "healthy" low sugar chocolate has only 5% less calories than the original, 504 vs 534 calories per 100g. This means in energy terms it is about the same as before. 
I have never been a fan of people trying "healthy" versions of foods that are fairly obviously junk. I think it is better to call a horse a horse and eat it because you want it then just factor it into your overall plan. 
Photo – The Nutrition Data from the Low Sugar vs Old chocloate bars. See More info here>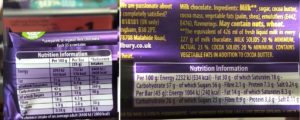 *********