Happy New Year! I have been quiet with newsletters of late as I was swamped with my latest book. However, after plenty of work it is finally finished! It will be available from next week.  You can pre-order The Grand Unified Theory of Weight Loss on the kindle here>>. For some reason you cannot pre-order the paperback copy or audio version so you will just have to wait until Monday. 
We have started 2021 with a new lockdown which for many will be the most difficult due to the weather and limited daylight.There are a few things you can to try to offset the impact of the lockdown. Depending on your restrictions you should implement some of the following.
As you are allowed out to exercise or walk then I would immediately begin commuting to work even though you are probably working at home. Replicate your old commute time by walking for 30 to 60 minutes around your local area before or after your work day. Other options include looking to combine walking with any work calls that do not need you to be at the computer. If you are unable to leave the house, or prefer to stay indoors then renting or buying exercise equipment can be a great idea. You can gently exercise on a treadmill, rower or stationary bike while watching TV or listening to work conference calls. For general movement you do not need to walk fast or exercise hard to get the benefits.
Alongside your movement you would want to impose some structure around your food and eating. As you are at home you can eat anytime you want and this lack of a regime can lead to you eating a lot more food. To counter this, set some meal times for you to eat. If you are now moving much less than before due to the restrictions then you will need to reduce your food intake as well. The simplest way to do this would be to eat fewer meals per day and/or cutting out snacking between meals.
Being at home all the time can greatly increase stress levels, especially as some of your stress releases have probably been taken away. You should expand upon your use of the stress management methods.  This could mean daily meditations, learning Emotional Freedom Technique or online counselling. You may also want to increase your own self-care practice during these times.
It is important to culture an environment that supports being active and healthy. There are many subtle things that can prevent this, for example, whether you get dressed properly every morning or instead stay in the clothes that you slept in. You would want to implement as many measures as possible that improve your behaviours. This could include getting up at the same time every day, immediately getting dressed into your sports gear or reducing the size of your plates to encourage smaller quantities. It could mean you join an online fitness class of some sort so you are at least around other active people even if just virtually. Maybe you could start meeting a friend to exercise if allowed within the rules. It can also help greatly if you work with a coach in some form. 
You should also test and challenge your beliefs. Lockdowns in the winter are much tougher than the summer due to the conditions. Maybe you will need to learn to go outside in the rain or exercise earlier in the morning to maximise daylight. With the right clothes you will find it is not as bad as you think weather wise and that your body soon adapts to earlier exercise or any other changes you may implement.
While lockdown is tough it also is a great opportunity to get results.  A large amount of people have managed to get amazing results during it. You may find you actually have more time than before to dedicate to movement. It is also possible you have less negative influences around food and drink due to your reduced social life.  
If you do gain weight during this period then do not beat yourself up. It is not the end of the world. Your primary concern should be just to get through this. You can always change your body in the future so relax. This kind of upheaval will probably never happen again in your lifetime so just do the best that you can and be kind to yourself. 
Photo – My new book is out next week, pre-order on the kindle here>> You cannot pre-order the paperback copy or audio version so you will just have to wait until Monday.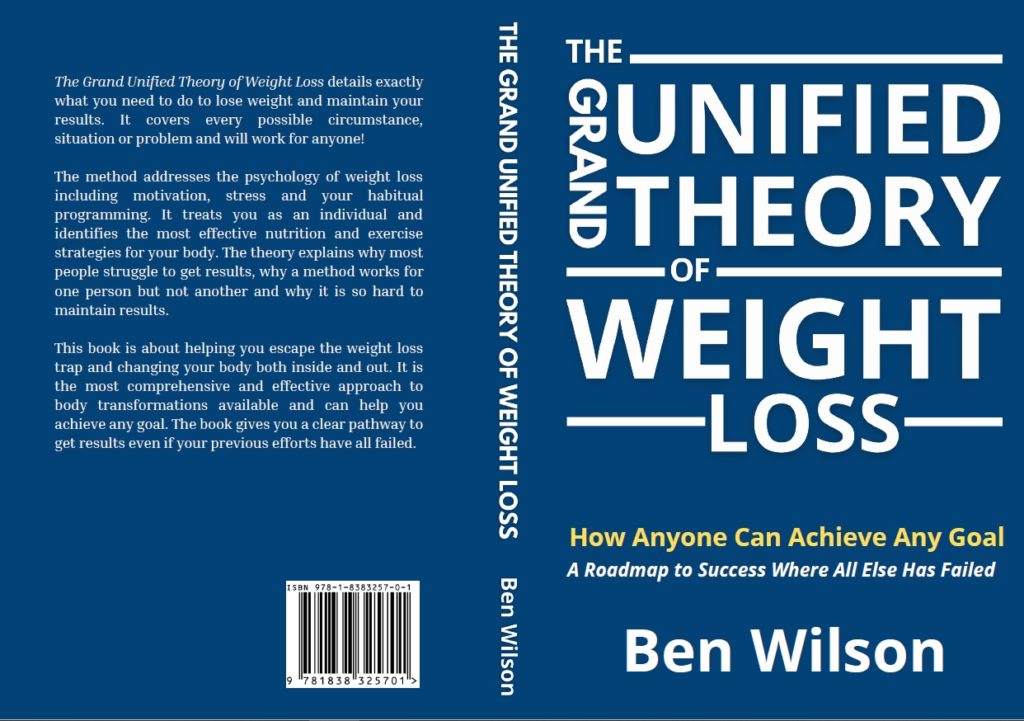 Need Support Getting In Shape?
Changing your body on your own without support or an effective system usually ends in failure sadly. To avoid this outcome you can become one of my coaching clients either online or in person. I provide Holistic, Healthy & Sustainable Body Transformations. Contact me to discuss your goals further or see below for more details and the options available to you based on your location / preferences: 
Worldwide (Online) – For transformations, coaching and support wherever you are in the world read more here>>>>
London (Battersea) – If looking for Personal Training Battersea please contact me. I am available for sessions in homes, private gyms or Personal Training Battersea Park. To see my locations please visit my Battersea Personal Trainer page>> 
London (Oval / Kennington) – For Personal Training in Oval & Kennington please  contact me. I am available for sessions in homes, private gyms or parks.
**************
Read My Book – The Grand Unified Theory of Weight Loss – My latest book is available in print, kindle/ebook and audio formats. You can read more about it and see where it is available here>>> 
Follow Me – You can get more great advice, tips, hacks and more by following me on one of my social media channels. Follow Me>>>
Instagram>> You Tube>>   Facebook>>  Twitter>> Tik Tok>>   My Weekly Newsletter>>
**************