I always like body transformation stories because they show what real people can achieve when they make a move towards their goals. It is even better if you know the person. This one is from my friend Mariana who lives in Brazil, she has some amazing photos on her Instagram page>>
She started this transformation in 2017 as she edged nearer to 100 KG. This is after a long term struggle with her weight. Through starting a simple healthy eating plan and following an exercise routine she began to take her first steps to changing her body.   
Photo – Transformation Journey @Marianaasenra
As she progressed she raised the bar. She delved further into healthy eating, she trained harder using bodybuilding workouts. She employed the help of a personal trainer, doctor and committed herself totally to her plan. The photos show the results she achieved.
As with all stories of body transformation there is a tendency to think of that person as super human or coming from a different planet. When you see the end photos I can understand why. However, it is always important to remember that the magnificent change always starts with a few simple steps. Too often we look at their actions at the end not at the beginning.
The magic of every great change comes from the duration of the effort. It is the persistence of working towards a goal within an effective structure that produces these results . The story of Mariana is the result of a dedicated two year plan that evolved as she grew. The results are spectacular and she deserves them for not just for the effort (as many struggling people are putting in effort too) but being wise enough to use support to help her to higher levels than could achieve alone.
Photo – Transformation Journey @Marianaasenra
.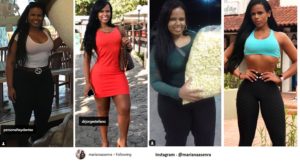 *******************
Need Support Getting In Shape?
For support, coaching, nutrition and exercise plans wherever you are in the world read more here>>>>
If looking for Personal Training Battersea please contact me. I am available for sessions in homes, private gyms or Personal Training Battersea Park. To see my locations please visit my Battersea Personal Trainer page>>
Battersea park was created in 1858. For me and many others Battersea Park is considered one of London's most interesting Parks housing Battersea Zoo, Battersea Evolution Exhibition Centre and right next to Battersea Park Dogs & Cats Home and the iconic Battersea Power Station
Oval & Kennington – For Personal Training in Oval & Kennington please  contact me. I am available for sessions in homes, private gyms or parks for Oval & Kennginton Personal Training