Last week was the London Marathon and as usual I was there watching and playing drums with my Samba Group. It is always good fun seeing the elite men and women's athletes down to the variety of fancy dressed runners. My favourite this year was a guy with a cross on his back running bare foot as Jesus. Not sure what he was doing it for but it seemed like hard work. There was also the Big Ben outfit who couldn't get over the finish line>>>.
If you are thinking about doing the marathon then here are some thoughts to consider.
**********
Who Can Do It? – Anyone can run a marathon, almost literally as seen in this article on the 11 most extreme marathon runners which includes a 430 lb sumo wrestler ( 31 stone – 195 Kg) and a guy who is over 100 years old. Whether and how you should do a marathon comes back to a few factors. 
For starters, what is your definition of running a marathon?  The sumo wrestler did it in 12 hours, that meant he pretty much walked the whole thing. For me, running a marathon means running it without stopping, personally if you are not coming in somewhere around 5 hours or below I would advise you to focus on pace before stepping up to marathon distance.
But that is just my personal opinion, London marathon stats for 2018 show that the average time for men was 3 hours 48 minutes with 85% doing it in under 5 hours. For women the average is 4 hours 23 minutes with around 75% doing it in under 5 hours.  This data comes from London though which is a faster marathon than most others if compared to the world marathon data times.
But back to the main point, anyone can do a marathon, it simply comes back to the how you handle the main problems of training for such an event.
*********************
Main Issues To Face – When considering whether to run a marathon the main issue is simply injury avoidance. This relates mostly to when you should target a marathon run, as in how many months you should give yourself? Assuming you have the motivation to get the sessions done then this can be answered by the following equation: 
"Time To Prepare For Marathon = Current Fitness X Goal Time X Injury Risk "
Current Fitness – This means how far and how quickly can you run currently. If you can run a 1.45 half marathon you will need hardly anytime to train for it compared to someone who cannot run 5km continuously.
Goal Time – As mentioned, if you do not have a specific goal time then it takes some of the pressure off. However, it is still a long way. This weekend I have helped a couple of people train for the Moon Walk in London which is one of my favourite fitness events as it has much less injury risk than running. Either way, 26.2 miles is a long way.
Injury Risk – Around 2% of people (1 in every 50) who start a marathon fail to finish it from injury. Many more do not make it to the the start line for the same reason. There are four main factors that affect injury risk:
– Body weight: The heavier you are the higher the risk of injury from extra compressive forces.
– Disposition to Injuries: Some people never get hurt or feel pains while others are always niggled with ankle, knee or hips issues. This is due to joint alignments, imbalances and the interplay with your running technique. This is especially important when running with fatigue.
– Pre/Rehabilitation Programme During Training – While most people start off fine with their body as the distances get increased past half marathon length in training it really starts to create stresses, tensions and imbalances in the body. This can be nicely managed with a rehabilitation programme to do on non running days.
– Time Until The Race – If you put yourself under a time pressure then the chances of injury rise. 
With so many factors at play it is hard to give advice about how long to give yourself.  Using my goal time of sub 5 hours at least then for the average person I would say 12-18 months if you cannot run at all currently.  If you run 5km in more than 30 minutes then 9-12 months, if you can run a 5km in 25-30 minutes then 6-9 months. Below 25 minutes for 5km then less than 6 months would be possible. Factor into this injury susceptibility and excess weight.
This of course is just general rule of thumb, David Goggins ran 100 miles weighing 260 lbs (19 stone – 120 kg) after not running for a year. Valid, he did pick up a stress fracture in his shin at around 70 miles but carried on.
Outside of physical issues outlined above the main personal level is whether you are prepared to put in the time and dedication to run. Realistic requirements for the average person is 2-3 times a week running, which towards the actual day will involve a run of 3 hours plus every 1-2 weeks. You would also need to put in rehab time sessions on off days if susceptible to injury.
*********
Where / When To Do It? – As discussed above the main issue of when to run comes back to giving yourself adequate time to train safely for it.
Where to run comes down to logistical issues. In the UK the London Marathon is head and shoulders the most popular marathon with 6 people applying for every 1 ballot place. If you do not get this then you can go through various charities but they often come with £1000+ minimum fund raising target. The reason there is such demand is that the London marathon is one of the few 26.2 mile courses where you have people cheering you on every single step of the way. 
If you can avoid the lure of London then there a over 100 marathons in the UK every year and almost all of them you can easily get a space. It is also popular these days to go abroad to run one with there being all sorts of runs across Europe and further a field. I have watched the Dubai and Brussels marathons during my travels.  
***********
If you are thinking of doing a marathon I have helped numerous people over the years as well with the Moon Walk.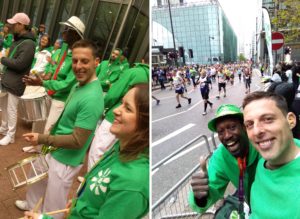 **********