Last weekend I got 2nd place in Master Men's Physique (over 40s) at the Ukbff South Coast championships in Brighton. I met some great people at the show and thanks to all those who helped with the prep process.
It was great to be back on stage, bigger and leaner than last time after a pretty good ten week prep. I looked better than the last show but the lighting wasn't as good within the photos so not sure if it shows that well.
I will now add in some other types of training which were lacking over the last year to get the body back upto speed health and fitness wise and then see if want to go again this time next year or similar. I will need to add a fair bit of sizeto my upper chest, shoulders, arms and upper back region. Find some photos of the show below – 
I was bigger and leaner than my show two years ago but it does not quite come across in the photos. This show was in a hotel with a stage built specifically for it with portable lighting. The previous shows I did were in theatres with a full time set up in place.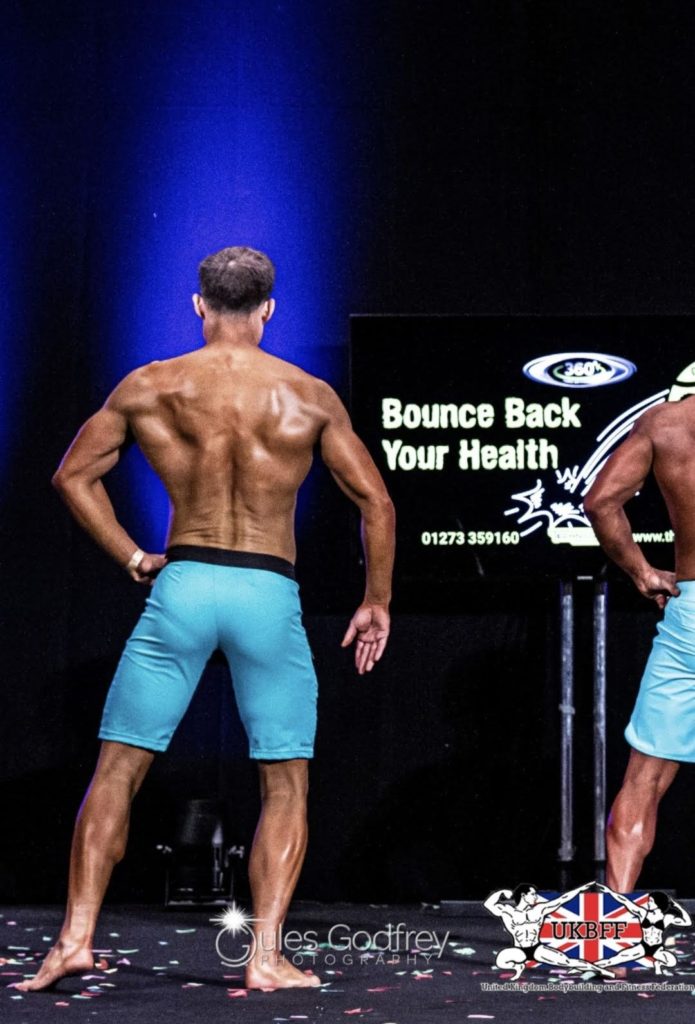 I came away with a second place trophy 🙂
Some back stage posing with my book on show. While the book is for the normal person and not those competing in shows, the underlying principles from it helped me throughout my preparation both in the immediate run up to the show and the overall development over the years to get to this point. 
Great to have some of my friends supporting me at the show – 
My progress tracker board I used for my ten week prep. The blue/green tick means I hit my fat loss target, a tick with a cirlce around it means I did much better than my fat loss target while an X means I overate. An X with a circle around it meant I ate way too much. Most of these were planned overeating days on a Sunday. The mm chart at the top shows how much body fat I had, which I measured every morning. This is my own measuring system so does not really correlate to anything. The wednesday before the show I was 5% body fat on the gym machine scales, though Im not sure If I trust that data. 
What can you take from this?
While this is obviously a personal goal for me if you click the link you can see a photo of my ten week progress tracking board. I feel most people would benefit from using some sort of tracker along these lines. It allows you to see progress and performance during a body transformation. I encourage most clients to try and use something like this.
The main point I try to stress when talking about shows is how lean I was before I started the ten week preparation. Everyone thinks you have done some mystical, magical plan or a brutally hard regime. The real secret is that you started the plan from a position already leaner than most. The actual plan is not that different to what everyone else does. Getting super lean is about duration and consistency and not effort or intensity. Super lean people have just lost fat for longer and beyond the point most people stop. This does not have to come in one go, the process may happen over many months to years even and includes various stopping and starting periods.
Like any prolonged fat loss phase, you will doubt yourself, struggle to find the energy to move, lose motivation and have various small yet significant psychological negotiations where you will try to convince yourself to just give up and eat. You will not win all these moments but you only need to win the majority of them to get great results.  
Need Support Getting In Shape?
Changing your body on your own without support or an effective system usually ends in failure sadly. To avoid this outcome you can become one of my coaching clients either online or in person. I provide Holistic, Healthy & Sustainable Body Transformations. Contact me to discuss your goals further or see below for more details and the options available to you based on your location / preferences: 
Worldwide (Online) – For transformations, coaching and support wherever you are in the world read more here>>>>
London (Battersea) – If looking for Personal Training Battersea please contact me. I am available for sessions in homes, private gyms or Personal Training Battersea Park. To see my locations please visit my Battersea Personal Trainer page>> 
London (Oval / Kennington) – For Personal Training in Oval & Kennington please  contact me. I am available for sessions in homes, private gyms or parks.
**************
Read My Book – The Grand Unified Theory of Weight Loss – My latest book is available in print, kindle/ebook and audio formats. You can read more about it and see where it is available here>>> 
Follow Me – You can get more great advice, tips, hacks and more by following me on one of my social media channels. Follow Me>>>
Instagram>> You Tube>>   Facebook>>  Twitter>> Tik Tok>>   My Weekly Newsletter>>
**************